We are excited to share the news that we are currently recruiting for 2 roles within Leeds Faith In Schools. Please see the details below and don't hesitate to contact our team via inf[email protected] if you have any queries or would like to learn more. 
Charity Administrator - Part Time - Paid
We are looking for an adaptable and passionate individual to join our team in the role of Charity Administrator. This role is key to the ongoing development of our work serving to support all the schools work team and wider charity do. The role spread across three key areas is an opportunity to be part of our brilliant community whilst serving the work on the ground. Full details of the role are available via the links below.  
Trustee - Treasurer - Voluntary
The trustees of Leeds Faith In Schools are looking for an individual to join them in their support and oversight of the work of Leeds Faith In Schools.
As a growing project the finance that underpin our work remain crucial to the success of outworking our vision in the schools of Leeds.
We're looking for an individual with skills and experience in the area of finance to support our board in firming up these foundations that enable our work to continue.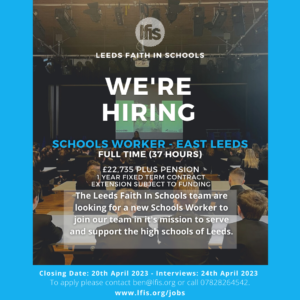 We're really excited to share the news that we are looking to recruit a new schools worker to join our already amazing team. For many
Read More »