Whilst we aren't currently recruiting for any paid positions we do hope to be expanding our team over the coming years. Please do keep an eye on our website and social media to be updated about any opportunities. 
We are however looking to restrengthen our team of volantary trustees to assist with the on going development and overside of Leeds Faith In Schools. If you think you have the skills to serve in this role we'd love you to get in touch.
Trustee - Treasurer - Voluntary
The trustees of Leeds Faith In Schools are looking for an individual to join them in their support and oversight of the work of Leeds Faith In Schools.
As a growing project the finance that underpin our work remain crucial to the success of outworking our vision in the schools of Leeds.
We're looking for an individual with skills and experience in the area of finance to support our board in firming up these foundations that enable our work to continue.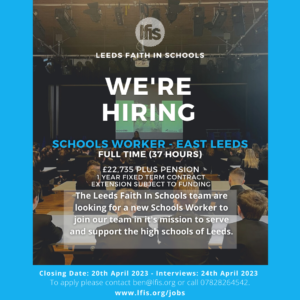 We're really excited to share the news that we are looking to recruit a new schools worker to join our already amazing team. For many
Read More »